PHOTO: The former St Joseph's Church in Clive, Hawke's Bay has been converted into a character-filled private home, which has come on the market for the first time since its conversion. NZ SOTHEBY'S INTERNATIONAL/STUFF
Rob and Kaaren Thorpe, residents of Clive in Hawke's Bay, have poured their dedication into the meticulous conversion of their remarkable church property.
This Category 2 heritage-listed residence, originally known as St Joseph's Church (Catholic) and constructed in 1889, had previously served as an art gallery before the Thorpes took ownership eight years ago. Initially, they had attempted to purchase it when it was first put up for sale, but were outbid by an Englishman who established the gallery.
However, fate smiled upon them when the property returned to the market a few years later, essentially a blank canvas. Rob Thorpe recalls residing in the building alone for three months as they worked on adding a new bathroom, kitchen, and balcony. He emphasizes their deep affection for the place, considering themselves more as caretakers than mere owners. Their recent efforts even included a full top-to-bottom repaint.
Despite their attachment to the property, the couple has decided to downsize, moving towards semi-retirement. Their intention to sell earlier this year was briefly postponed by Cyclone Gabrielle, which affected the grass and gardens but spared the church itself. This may be attributed to the foresight of a priest from the last century who raised the floor level to exceed the highest known flood levels, leaving the church safely elevated 6 feet above the ground.
Real Estate Agents: Who has the lowest and highest fees? WATCH
The church is now listed for sale with Sophie Sheild-Barrett and Neal Andersen of NZ Sotheby's International Real Estate, offering a rare opportunity for "visionaries, character enthusiasts, history aficionados, and investors."
Throughout their tenure, the Thorpes have diligently preserved the church's traditional character, retaining features like the arched stained glass windows, the vaulted ceiling with native timber, and matai flooring. The space has been thoughtfully subdivided, making use of existing structural elements. The former altar space now houses the kitchen, elevated two steps above the main floor, formerly the nave. The primary bedroom sits adjacent to the kitchen, with the bathroom symmetrically positioned on the opposite side, potentially once serving as a vestry.
The mezzanine floor currently functions as a second bedroom.
Beyond the church's walls, the Thorpes have put effort into the expansive 1012m² property. They've established two outdoor seating areas, one bathed in sunlight on the church's sunny side and the other under a pergola and arbor, flanked by formal hedging.
Located at 7 School Rd, Clive, the property is available for purchase through a tender process, with a deadline set for November 22, 2023.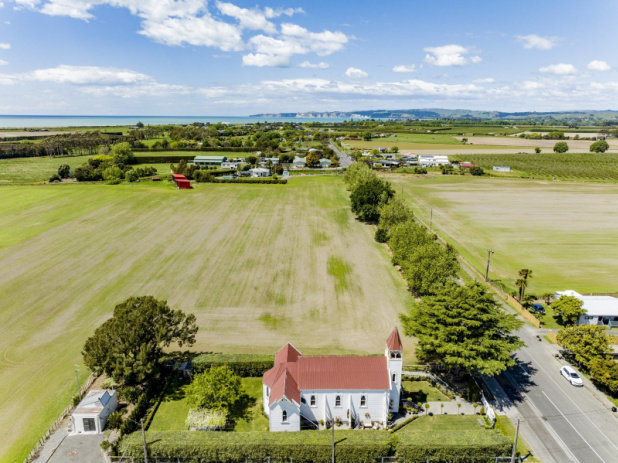 This bird's-eye view of the 1015sqm section on School Rd shows Cape Kidnappers in the distance.
SOURCE: STUFF