PHOTO: The once-bustling Gulf Harbour Country Club, nestled in the heart of the Whangaparāoa Peninsula in Auckland, is now deteriorating in a state of haunting abandonment. FILE
The Gulf Harbour Country Club, once a bustling centerpiece nestled in the heart of the Whangaparāoa Peninsula in Auckland, now languishes in a haunting state of abandonment. Since its sudden closure in July, this golf course, which once hosted prestigious events like the 1998 World Cup of Golf and the New Zealand Golf Open in 2005 and 2006, has transformed into a surreal spectacle—a testament to nature's quiet resurgence.
Former Director of Golf, Frazer Bond, captured the melancholic decay in a series of photographs, expressing the profound sadness of witnessing the demise of a place once celebrated for its manicured beauty. The meticulously-tended fairways, once a vibrant carpet of green precision, now wear a surreal cloak of purple and brown. The once-navigable roughs have succumbed to dense undergrowth, rendering them virtually impassable.
The sad state of Gulf Harbour Country Club which closed suddenly in July. Photo / Frazer Bond
The clubhouse, frozen in time like a ghostly relic, paints a somber picture of abandonment. Abandoned golf clubs and bags lie scattered, embodying a poignant narrative of human departure. Apparel from the pro shop, untouched since the closure, hangs forlorn on racks. Maintenance equipment lies dormant in sheds, and the once-pristine bunkers bear the weight of neglect as their sands merge with the reclaiming earth.
Despite the desolation, traces of human existence persist. Overflowing rubbish bins stand as silent sentinels of a forgotten past, resonating with the abandoned air that now shrouds the once-thriving club. Surprisingly, people still attempt to play the course, navigating through overgrown grass and tangled roughs, taking advantage of the now-free entry that used to cost $75 for 18 holes for affiliated members.
Frazer Bond, who served in his role for seven years, expressed astonishment at the rapid decline of the club. He described the surreal atmosphere, likening it to the abrupt departure during the Covid lockdowns. He recounted how suppliers hastily retrieved their belongings, and some even tore off the brass letters of Gulf Harbour from the front gate.
Despite the challenges of playing in these conditions, Bond noted some positives—native birds now frequent the overgrown course, providing a silver lining for the local community.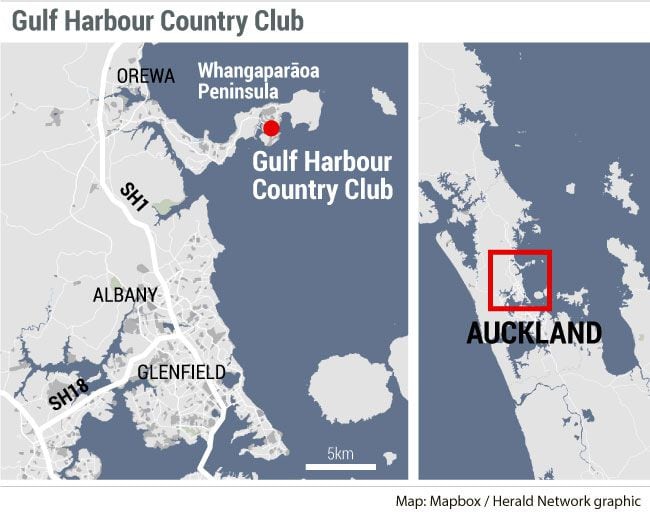 The closure of Gulf Harbour Country Club was marked by a letter from director Wayne Bailey, citing financial struggles and the lack of investment over the past 25 years. The fate of this once-vibrant hub remains uncertain, with locals fearing potential housing development, leaving its legacy suspended in the delicate interplay between time and nature.
SOURCE: NZHERALD