PHOTO: Nicola Dale landed smoothly in real estate after losing her job as Qantas first-class cabin flight attendant. Nick Moir
As the COVID-19 vaccination ramps up in Australia and around the world, hopes are rising that international travel will restart soon.
But for some flight attendants who were stood down at the start of the pandemic last year, the welcome news has come a little too late.
Many have moved on and others, like Nicola Dale and Linda Gibbens, have found their footing in the booming real estate market.
After losing her Qantas job as first-class cabin flight attendant ushering wealthy travellers, Ms Dale is spending her working days showing trophy homes to cashed-up buyers in Palm Beach, in Sydney's north.
"I was an international flight attendant for 34 years – a career I've absolutely loved, so when that came to an end last year, I was blindsided by it," she said.
"I wanted to take a break after that, but then David Edwards, principal at LJ Hooker in Palm Beach called me and asked me if I was interested in joining his team, so I did."
Ms Dale got certified to work in real estate and became a client concierge with the agency.
Her job involves meeting with buyers and sellers and understanding their situation and goals. She also helps with open homes and works with the LJ Hooker team to advance the sale.
"I know Palm Beach inside out; it's a prestigious area for real estate, so it's an easy market for me to work in," she said.
"I love meeting people, and it's exciting to hear about their dream homes and aspirations. It's the same feeling I used to get when I welcomed passengers on board."
Ms Dale said compared to serving passengers at 35,000 feet, working in real estate has been a breeze.
"Of course, there are difficult clients too, but there's not much that can throw me off," she said.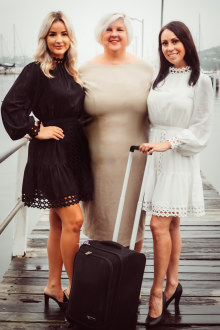 "After decades of working with people and seeing all sorts of passenger behaviours – from having too many drinks, from jet lag, being on the wrong flight or long delays – working with homebuyers and sellers has been a relatively easy ride."
Linda Gibbens, a former Virgin flight manager of 20 years, also found her way to the green pastures of real estate.
"I was flying one minute and the next, I had to find an entirely new career, and I was permanently grounded," she said.
Having had a passing interest in real estate, Ms Gibbens found herself approaching a woman with a Belle Property badge during one of her walks at Terrigal Beach.
READ MORE VIA AFR