PHOTO: Sacha Baron Cohen and wife Isla Fisher. Hello
Discretion is paramount in the prestige property game, but the stakes are even higher when you're the agent showing homes to Hollywood stars planting roots in Sydney.
There was a look of horror on Double Bay Laing and Simmons realtor Stephen Zoellner's face when he saw a pap snapping his famous clients Sacha Baron Cohen and wife Isla Fisher last week on the balcony of a Vaucluse McMansion with an $11 million price tag.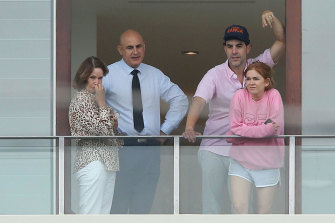 The couple, who returned to Australia last year to escape 'Trump's America', spent last week viewing luxurious and, err, gaudy homes in the eastern suburbs.
One ostentatiously ornamented property boasted harbour views, a spiral staircase, home-cinema, squash court and bedazzled light fixtures. Unimpressed by the photographer's presence, Baron-Cohen told him: "I'm not your guy, there's a lot of other actors in Australia right now."
Another property Fisher inspected alone was set on the cliffs at Dover Heights. On a battleaxe block and completely surrounded by other homes, one would imagine the $14 million joint is more suited to the reclusive Hollywood power couple.
In January Emerald City revealed the glamour couple did not want to raise their young family in Trump's America. Security insiders said Baron Cohen had received threats from MAGA (Make America Great Again) supporters because of his contentious movies and outspoken views on Twitter.
Devout Jews, the Baron Cohens apparently frequent a synagogue in Bondi. Former Home and Away starlet Fisher isn't the couple's only connection to Australia; Baron Cohen's brother Daniel lived in Bellevue Hill for a number of years.
READ MORE VIA SMH
MOST POPULAR