PHOTO: New Zealand's residential housing market
A cross-country analysis shows that New Zealand's residential housing market is by far the most expensive in the English-speaking world, measuring at 4.8 times the size of the economy: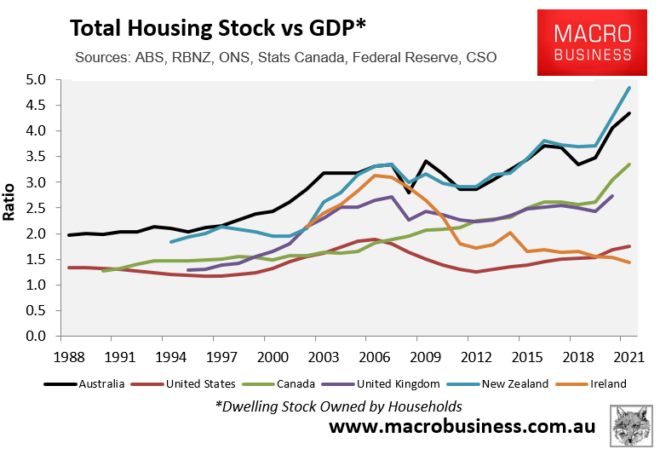 Capital Economics also estimated that New Zealand's consumer spending growth is the second most sensitive to changes in house prices, behind Hong Kong: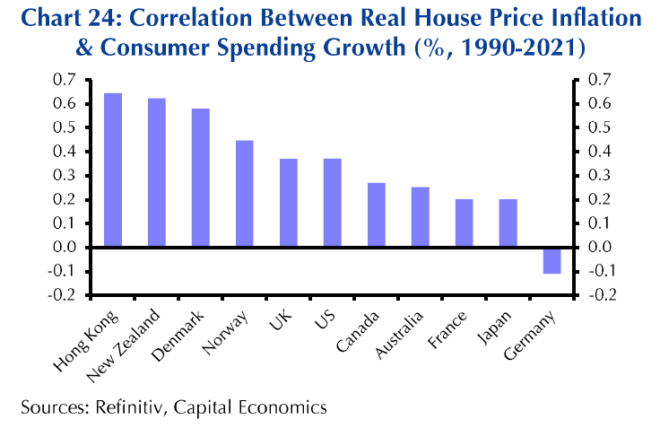 Given household consumption is the largest contributor to economic growth in New Zealand, a significant house price correction is more likely to slash consumer spending and push the nation's economy into recession.
The International Monetary Fund's (IMF) latest review of the New Zealand economy expressed similar concerns, noting that a deep and rapid correction in the New Zealand housing market might require Macroeconomic policy support to prevent the economy from sliding into recession:
"New Zealand's household debt, most of it housing-related, is high, having increased from 158% of disposable income at end-2019 to 169% in June 2021″…

"There is likely to be a larger impact on consumption through wealth and sentiment effects. In a scenario of a marked housing correction, macroeconomic policy support may be needed to avoid second round effects and a pronounced downturn"…

"A sudden and deep correction would likely have significant spillovers to the rest of the economy."
This follows a larger run-up in New Zealand house prices than other advanced nations:
"House prices in New Zealand were already increasing faster than in its peers before Covid-19, and the pandemic accelerated this trend.
"Since 1998, prices in New Zealand have increased by over 250%, almost four times the average increase across OECD countries (around 70%)…
Finance journalist Bernard Hickey once described New Zealand as a "housing market with an economy attached". In light of the IMF's latest analysis, this statement rings truer than ever.
READ MORE VIA MACRO BUSINESS
MOST POPULAR