PHOTO: Australian house prices are now under massive pressure. FILE
A major bank has warned that super-sized interest rates will have a chilling impact on house prices as potential buyers run scared.
House prices are set to plunge by 18 per cent in the next two years in Sydney and Melbourne, one of the major banks has warned.
And across Australia, house prices will drop by 15 per cent over the next 18 months.
That's according to Commonwealth Bank economists, who have cautioned that the super-sized rate hike of 0.5 per cent on Tuesday – the biggest in 22 years – will have a chilling impact on Australia's property prices, alongside expectations of a more "aggressive" cycle of rate rises in coming months.
Head of Australian economics at CBA Gareth Aird predicted an 11 per cent fall in Sydney house prices this year, followed by a further 7 per cent drop next year.
Melbourne would experience a 10 per cent drop over the rest of the year and another 8 per cent decline in 2023, the CBA analysis found.
House prices will fall by 11 per cent in Sydney this year alone. Picture: NCA NewsWire/David Swift
Hobart's hot property market was also expected to take a hit with a drop of 4 per cent in house prices this year and 9 per cent next year, with Canberra also expected to be impacted by the same declines.
In Darwin, house prices were expected to drop by 1 per cent this year followed by 9 per cent next year.
Brisbane, Adelaide and Perth were likely to buck the national trend this year and would see house prices increase before dropping by between 8 and 11 per cent in 2023.
In March, the CBA had predicted just a 3 per cent drop in house prices for 2022, showing a dramatic change to their forecasts.
"Home prices will move lower from here given the RBA is expected to tighten policy via rate hikes quickly," Mr Aird said.
"The extent to which prices contract will depend in large part on the speed and magnitude at which the RBA lifts the cash rate."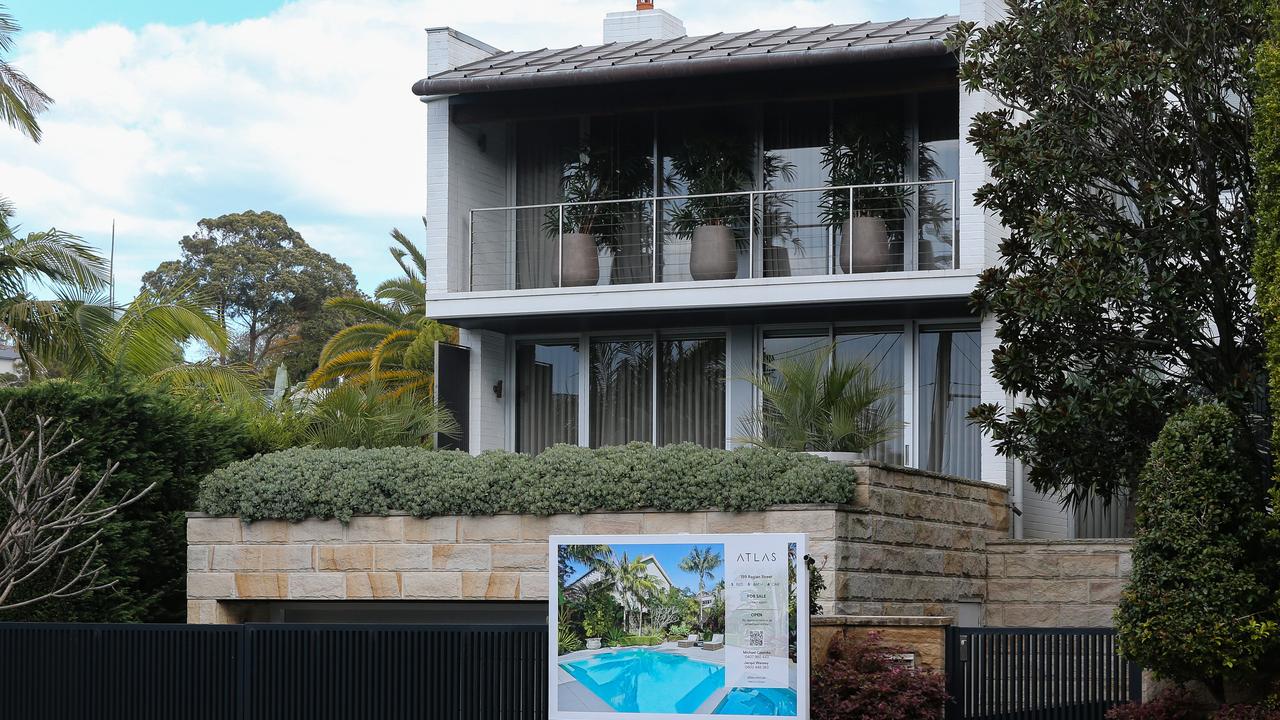 House prices will fall by 15 per cent across the country over the next 18 months. Picture: NCA NewsWire/Gaye Gerard
The last downturn in Australian house prices was between mid-2017 to mid-2019, with a slide of almost 10 per cent nationally, with Sydney hit by a 15 per cent fall and Melbourne by 11 per cent.
However, Mr Aird doesn't believe the housing market will crash as "the low jobless rate means households will continue to pay off mortgages but higher rates come at the expense of less discretionary spending," he said.
CBA has predicted the official interest rate will rise as high as 2.1 per cent by the end of the year, while financial markets have pegged an even bigger jump to 3 per cent.
But UBS economist George Tharenou warned a jump to 3 per cent isn't likely as it "would likely crash housing and drive a recession".
Yet in good news for homeowners, the CBA has predicted interest rates will need to be cut again in the second half of 2023 due to a slowdown in economic activity of 2.1 per cent, compared with expected growth of 3.5 per cent this year.
Commonwealth Bank head of Australian economics Gareth Aird is predicting house prices to fall across the country.
READ MORE VIA NEWS.COM.AU