PHOTO: Abigail Fairbanks. CUTTING EDGE PROPERTY.
Introducing Real Estate Barbie: A Quirky Twist to Selling Property in North Queensland
A Unique Approach by Cutting Edge Property in Townsville
In a creative and tongue-in-cheek marketing move, Cutting Edge Property, a renowned real estate agency in North Queensland, has taken inspiration from the iconic Barbie doll to showcase a suburban house in Burdell. Abigail Fairbanks, a spirited property agent at the agency, decided to embrace the pink-loving persona of Barbie to draw attention to this modern and inviting property.
Ryan Gosling as Ken and Margot Robbie as Barbie in a scene from the movie Barbie.
Bringing Barbie's Magic to Burdell
Abigail, an enthusiastic realtor, shared her childhood affinity for monster trucks and confessed to sneaking away with her sister's Barbies for a playful escapade. Embracing the recent release of a movie featuring Queensland's very own Margot Robbie as Barbie and Canadian heartthrob Ryan Gosling as Ken, Abigail decided to put on a pink-themed marketing spectacle.
A Playful Video Tour with Barbie Vibes
The listing video opens with Abigail entering the house elegantly in heels, only to kick them off at the door in true Barbie style. As she gracefully tiptoes down the hall, viewers are invited to imagine their dream house at 28 Saba St in Burdell. The house boasts three bedrooms and modern amenities, perfect for those who love entertaining. Abigail even jokes that the entertainers' kitchen is tailor-made for those who like to party, just like Barbie herself.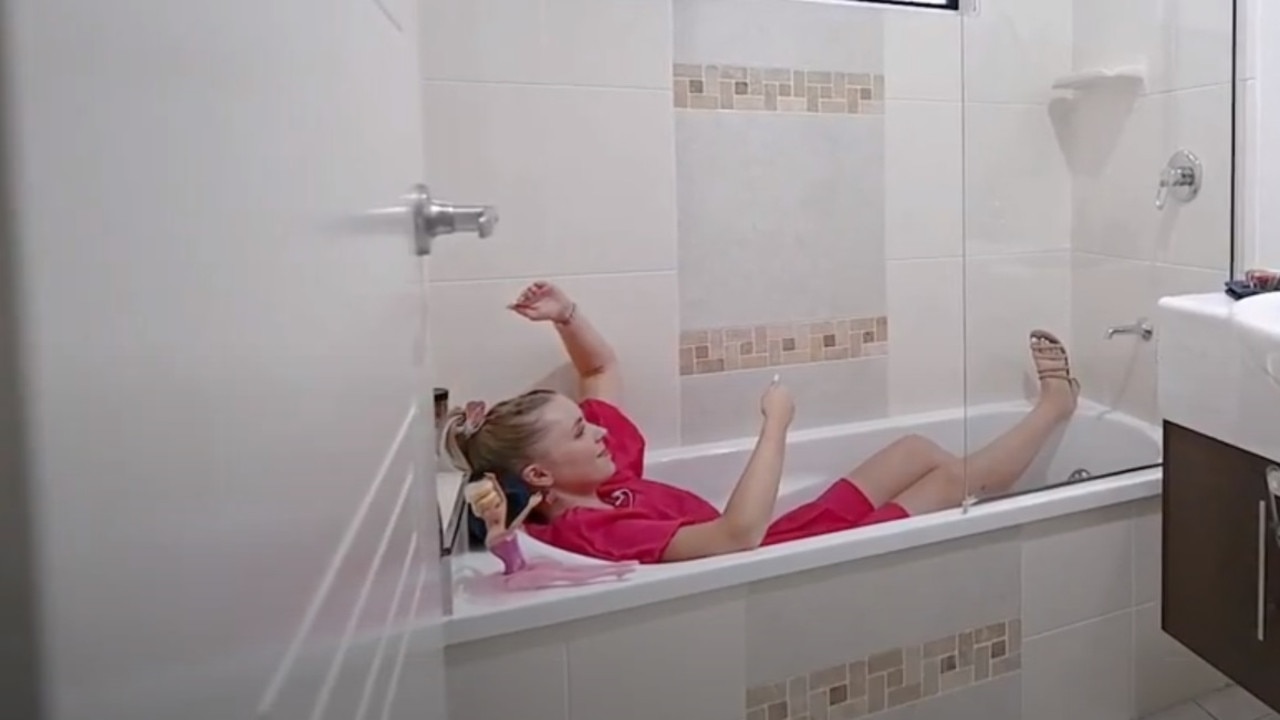 For Sunday self care days
A Touch of Humor and Nostalgia
In the spirit of fun, Abigail humorously points out the must-have features in a Barbie dream house, including a fabulous ensuite with a double shower, ideal for those moments when Ken takes forever to get ready. With a nod to self-care Sundays, she playfully poses in the bathtub, heels and all, emphasizing the ample space available for relaxation and pampering.
Living in Barbie's World
The house, nestled on a 451 sq m block, promises a delightful living experience in the vibrant suburb of Burdell. Abigail cheekily suggests that residents will feel like they're living in Barbie's world, especially with a new tavern nearby for Sunday Malibu Barbie vibes. And for those who fancy a stroll down The Strand, the popular destination is just a short 20-minute drive away.
Margot Robbie Takes You Inside The Barbie Dreamhouse | WATCH
Embracing Quirkiness for Property Promotion
Cutting Edge Property has garnered a reputation for its unique and sometimes whimsical approach to marketing. In a past marketing endeavor, director Rob Levy made waves with a video featuring him perched on a large pink flamingo to promote a house with a pool in Townsville. Embracing the agency's distinct style, Rob unabashedly acknowledges his penchant for being a bit "daggy" to bring attention to the properties he represents.
Barbie Dreamhouse and the international pink paint shortage | WATCH
In conclusion, Abigail and the team at Cutting Edge Property continue to captivate potential buyers by daring to be different. By adding a touch of Barbie's charm and nostalgia, they have successfully crafted a listing video that stands out from the crowd and captures the imagination of those seeking a dream home in Burdell.
Margot Robbie and Her Astonishing Wealth Accumulation | WATCH
SOURCE: NEWS.COM.AU